Hello ♥
With my birthday being a mere week away, I can't help but to be drawn to looking online at things I would live to have. The truth is I will probably save any birthday money I receive as I always feel guilty about spending. As I always say, if I had someone else's money to spend I would be a shopaholic! With my own money, however, I'm a bit of a saver.
I did a wish list before and if you would like to see what I was coveting then you can find it
HERE
. All these items on my wish list are from New Look and Forever 21 as they are currently my favourite shops! Anyway, here is what I want this month!
001.

Marie Meili Navy and Red Stripe Frill Bikini (Top £13.99, Bottoms £11.99, New Look)
002. Dark Red Heart Print T-shirt ( £9.99, New Look)
003. White Cut Out Tie Front Sleeveless Shirt (£12.99, New Look)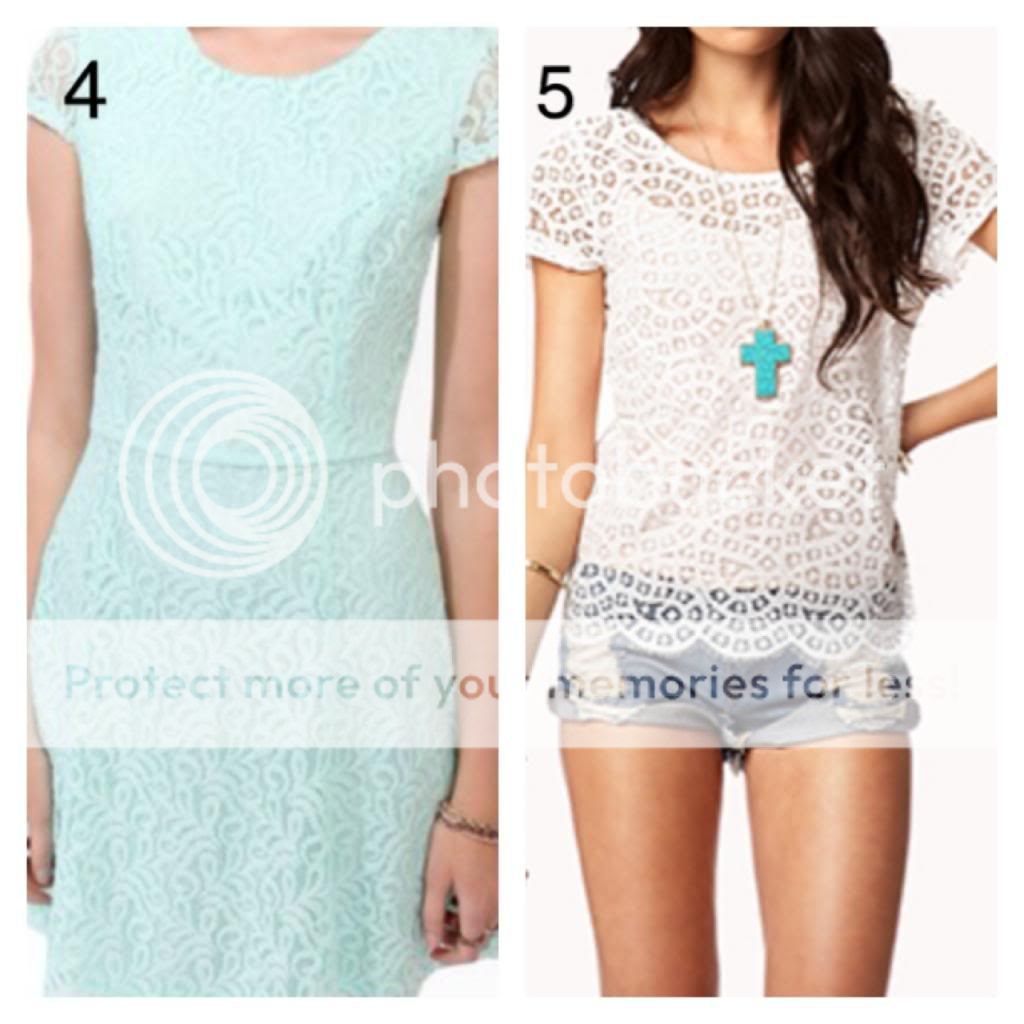 004. Filigree Lace Dress (£19.75, Forever 21)
005.

Essential Lace Top (£12.75, Forever 21)
006.

Perforated western Booties (£29.90, Forever 21)
007. Zip Pocket Crossbody (£16.75, Forever 21)
I love the
nautical bikini
from New Look although I'd never pay that price for something that, in Scotland, would be so rarely worn. The
heart print tee
is just too cute to pass up plus a lot of my tshirts are rather boring and I'd love some new ones. I really want a sleeveless shirt to pair with some denim shorts and
this
is exactly what I'm looking for!
The colour of this
lace dress
from Forever 21 is such a summer colour that when I saw it I just fell in love a little. I rarely wear heels and would much rather wear boots particularly with dresses. I think
these ones
from Forever 21 would make any outfit look a little more rock-chick although the price is a little more than I would currently pay. I've been looking everywhere for a cute lace top just like this and I'm so glad I've found
this one
. I think I may well be making a little purchase with my birthday money for this one. I'm a big fan of small
crossbody bags
that will fit my phone, keys and purse. This is a perfect size and the colour is just to die for.
What do you think of my wish list? Anything caught your eye? What are your summer fashion staples? Let me know in the comments!
Until next time!
Please follow me on: