Hello
If you follow me on twitter or have read this week's previous posts then you will know that last weekend I was on holiday in the north of England with my other half and his family. The fifteen of us (yes that's right, fifteen) stayed in four caravans at Haggerston Castle Holiday Park in Northumberland from Friday to Monday.
Friday
After writing list upon list to make sure we didn't forget anything, the other half and I finished packing in the morning leaving us with time to play a couple of games of Call of Duty before leaving to make the trip to Northumberland.
We arrived at Haggerston Castle Holiday Park about 4pm and checked in and unpacked. The other half's family soon started to arrive and we took a walk around with the dog before having some Papa John's pizza for dinner. After we met for a couple of drinks before returning to my other half's parents' caravan for a catch up.
Saturday
We got up bright and early to make the trip to Bamburgh where we walked around a little car boot sale right beside the castle despite the rain.
We then went to the R.N.L.I. museum about Grace Darling, a lighthouse keeper's daughter who famously helped to rescue survivors from the shipwrecked Forfarshire in 1838. Then it was back to the caravan for some lunch and board games before we went to the pool; mostly to watch our nephew jump in time and time again. After a big family dinner the other half went and played pool and I won two out of the three games we played. Go me!
Sunday
Sunday was, by far, the busiest day of our holiday. Again we got up bright and early this time to go to the Holy Island of Lindisfarne. Whilst there we saw Lindisfarne Priory and Lindisfarne Castle and we also found a lovely secluded beach. We also saw some beautiful owls in a small Birds of Prey stall.
Look out for a more in depth post about our trip to the Holy Island this Sunday!
After lunch I read in the sunshine while the other half played golf with his dad, uncle and brother-in-law. Yes, I became a golf widow for a few hours. Then we all got together to sit in the sunshine and give the other half's dad his birthday presents before embarking on a game of rounders which my team won thanks to me and my two (or was it three?) home runs. I really don't know how I did it. I remember when I was awful at rounders.
Then we had dinner before playing pool again which this time I lost two-one. Again we met up with the family and spent time with the nephew in particular before calling it a night and shuffling off to bed.
Monday
On Monday we decided to visit Alnwick before heading home and so we packed our things into the car and checked out early.
Sir Henry Percy aka Harry Hotspur Statue in Alnwick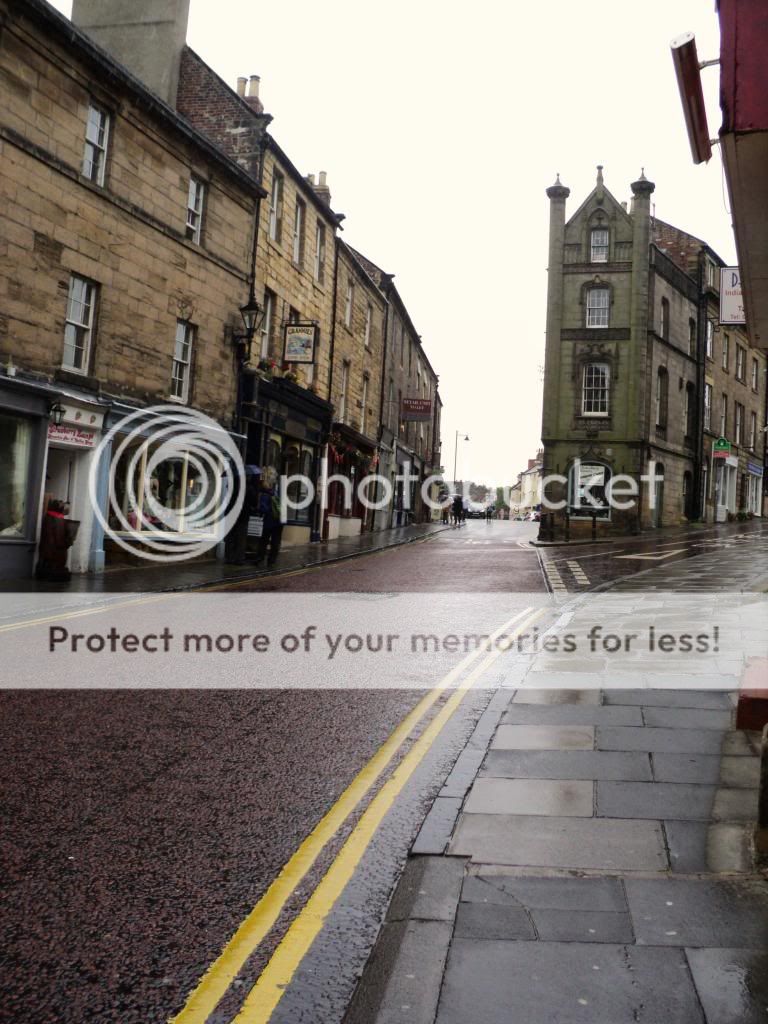 Despite the heavy rain we wandered with the dog around Alnwick town centre which had a market place before stopping at Alwnick Castle to take pictures by the road. The scene of the first flying lesson in Harry Potter and the Philosopher's Stone was filmed at Alnwick Castle in case you didn't know!
We then packed our soggy doggy back in the car and began the long journey back home.
I hope that you enjoyed this post even if it ended up being a lot longer than intended! All in all, it was a brilliant break and we all thoroughly enjoyed ourselves. Already I'm wondering where my next holiday will be. Better get saving those pennies!
Until next time!
Please follow me on: