Hello ♥
I don't exactly have a bursting at the seams social calendar but when rugby season starts you can guarantee I'll be out every Friday night that there is a home game. It's a great reason for me to get out the house and into some fresh air where I can watch the sport I love with my family and friends.
Every Thursday night I quite like to pamper myself a bit with a mini facial. When I say facial I really just mean I give my face a proper cleanse and do a face mask. This is essential especially when my skin feels (and looks) pretty yucky, like now.
I can't believe I'm showing a picture of me sans make up! Eek!
Friday afternoons are always quiet, rugby season or not. By the time one o'clock rolls around, I've done all the housework in advance of the weekend and I'm pretty much just waiting for the other half to come home from work.
About mid afternoon I start to potter around and get ready at a nice leisurely pace.

First I do my hair. I have painfully boring straight hair which I am never happy with so if I'm ever going out I always use my straighteners to put a bit of a curl or wave in it. I think it looks better, don't you? Make up is next and I tend to go for a fairly natural look most of the time unless I'm feeling more "punk" when I'll wear a lot more eyeliner!
I then dig out the many layers I plan on wearing and all my rugby merchandise. I know with the weather some of you have been having this seems like an extreme amount of layering but trust me, the temperature dropped to 11 degrees on Friday night and when you're essentially sitting still for two hours, these layers come in handy!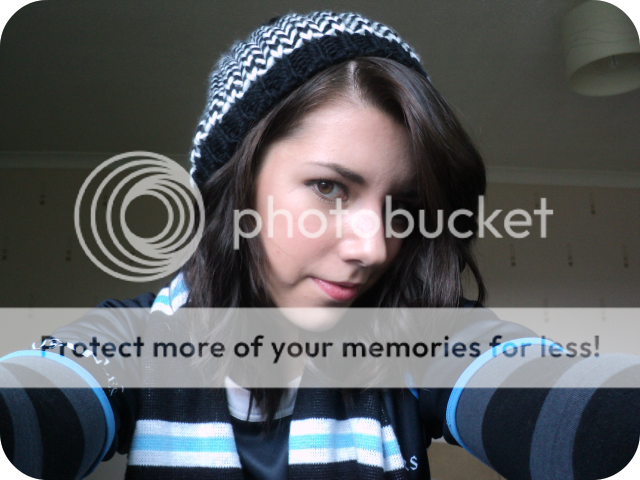 Et voila! That's me, ready to go out.
I hope you liked this post. If you'd like to see more getting ready type posts let me know!
Please follow me on: