Despite the fact that I don't read nearly as much as I used to, I still love to pull out a book and escape into another world for an hour or two. That's the best thing about reading: the chance for escapism. I know I've found a good book when I become lost in its world, feeling as though I know the characters or know exactly what they are going through. You know it's been time well spent when you are actually disappointed to finish a book rather than relieved.
My favourite author for quite some time now is Jodi Picoult. You may recognise the name. Yes, she wrote My Sisters's Keeper which was actually the first book of hers I ever read in 2005, long before the film came out. I should tell you that the ending of the book is different from the ending of the film which, for me, ruined the entire film. Despite this being the book that everyone knows Picoult for, it is not my favourite. In fact, it isn't even in my top three but theses ones are.

*WARNING: These books do not contain happy subject matters.*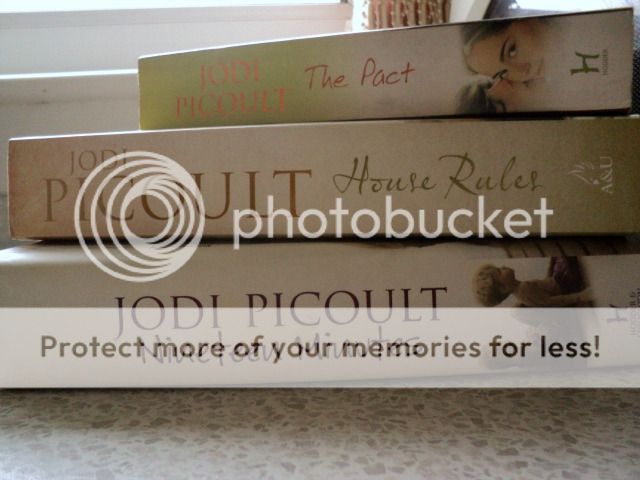 Nineteen Minutes
"Nineteen Minutes asks what it means to be different in our society, who has the right to judge someone else - and whether a person is ever whom they seem to be..." Hodder & Stoughton (taken from blurb)
When a teenager walks into an American high school wielding a gun a whole community is affected by the events that take place in nineteen minutes. Again, this isn't a happy subject by any means. In fact it might be thought of as controversial but Picoult again deals so well with all the varying emotions of her characters that there is barely anything to dislike. I love the fact that she never shies away from subjects that make people uncomfortable and has the ability to really make you look again and reconsider the characters and why things happened the way that they did.

The Pact
I first read this in 2006 whilst on holiday which I think was a big mistake. In my opinion, summer holidays should be spent reading light, fluffy books that don't require too much thought but instead I found myself reading a book about a teenage boy, Chris, being charged with the murder of his girlfriend, Emily, in an apparent suicide pact. My heart broke for Chris and Emily in equal measures through all the twists and turns the book offered. Even though I have read The Pact five or six times, I still cry at all the same points. I think that it is remarkable just how Picoult is able to really channel each of her characters in her writing.
House Rules
Teenager Jacob Hunt has a real knack for turning up at crime scenes and, with his obsession with forensic analysis, he is able to tell the police what they need to do and what they are missing. Due to suffering from Asperger's Syndrome he is useless at picking up social cues and expressing himself so when his tutor is found dead, the symptoms of his Asperger's begin to make him look guilty of murder.
This is beautifully written and deals so well with the intricacies of Asperger's Syndrome. Again, you are taken on a rollercoaster of emotions, feeling almost certain that Jacob did commit murder to questioning what really did happen. Somehow Picoult makes it easy to empathise with every character she writes about and this certainly didn't disappoint.
I have read just about every Jodi Picoult book including these:
Handle With Care | Change of Heart | The Tenth Circle | Vanishing Acts | My Sister's Keeper | Second Glance | Perfect Match | Salem Falls | Plain Truth | Keeping Faith | Mercy | Picture Perfect | Harvesting the Heart | Songs of the Humpback Whale | Lone Wolf | Between the Lines* | Sing You Home
Have you read any books by Jodi Picoult? If so, what was your favourite? Who is your favourite author?
*Between the Lines is written by Jodi Picoult and her daughter, Samantha Van Leer.
Please follow me on: