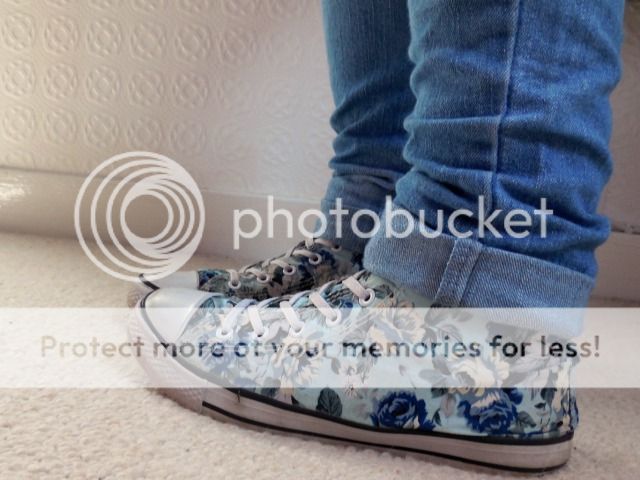 When I saw that this week's 2014 Blogger Challenge was to be a Spring OOTD I honestly let out an audible sigh. It wasn't because I don't like fashion. I do. I'm just sort of rubbish at having any real style. It wasn't because I don't enjoy occasionally having at wee nosey at what other people are wearing. I do although the same poses every single day can get a little tiresome. It wasn't because I've never done my own OOTD. I have and you can find them
HERE
and
HERE
.
It came down to three little points:
Unlike England, other than a couple of days this week Scotland hasn't really seen any sign of spring. Yes, there have been daffodils and crocuses blossoming on grass verges, baby lambs frolicking (this word amuses me) in the fields but spring just isn't here yet. The sun only appears for an hour or two a day if we are lucky and it seems as if all we are ever going to get is more grey skies and rain. The temperature even struggles to get into double figures far more than I'd like. Spring just isn't here so I have no desire to wear pastels or any other springlike attire.
I don't do fashion. Don't get me wrong I like looking at fashion magazines and I'm definitely guilty of having a good online window shopping session every few weeks, but actually have a style? No, not me. I wear jeans about 99% of the time and alternate between my favourite t-shirts and hoodies. In the summer, my idea of switching thing up is to swap my jeans or denim shorts. Tres chic, non?
I don't have a nice place to take sneaky little OOTD. No one wants to see the inside of my bedroom (again) for a "Spring OOTD". Maybe if I had my own garden it wouldn't be so bad but I don't so yeah...
That being said, I am really making an effort to complete each of these blogger challenges and so this is my OOTD...
Excuse the boring, straight hair. This was before I decided that it just had to be tied up out of the way!
Jeans: Primark | White Vest Top: George at Asda | Grey Striped Cardigan: No idea (it's pretty old) | Converse Style Shoes: Matalan | Belt: Primark (from years ago)