Forgive me if this ends up being a long post. As ever, I write this blog for myself so that I can perhaps look back on my experiences in the future and cringe, laugh or remember fondly all the wonderful things I record here. Of course it's also lovely to know that you are here to share in the biggest (and smallest) moments of my life.
This was a big moment.
After a couple of days of typical Scottish weather (rain!) we were blessed with the best weather of the past week. There was an actual blue sky and it was the perfect temperature. Trust me, if it had been any hotter I would have melted away in my dress.
They aren't kidding when they say that the day flies in. The ceremony went by in a blur. We both stuttered over our vows, perhaps due to the other pulling faces or maybe due to nerves. We both had tears in our eyes as our sisters read the poems we had chosen. We both had nervous smiles etched on our faces. I was about fifteen minutes late, I felt as though the vows I was saying were nonsense but I was assured that I said them properly and I did struggle with getting the ring on his finger. The register may have accidentally called my new husband "camera"and forgotten momentarily about one of our readings. Maybe it wasn't absolutely plain sailing but they were only minor things and before long, I was walking back down the aisle as Mrs T. Finally, it was official.
A huge amount of relief was felt by both of us after the ceremony was over. After almost nine years I was able to look at the man that has stood by me through thick and thin and call him not only my best friend but my husband. Whilst I knew I still had a number of little things I had to do throughout the day (cake cutting, first dance etc.) my main stress was over. I allowed myself to enjoy talking to family and friends and even (sort of) enjoyed getting some photos taken.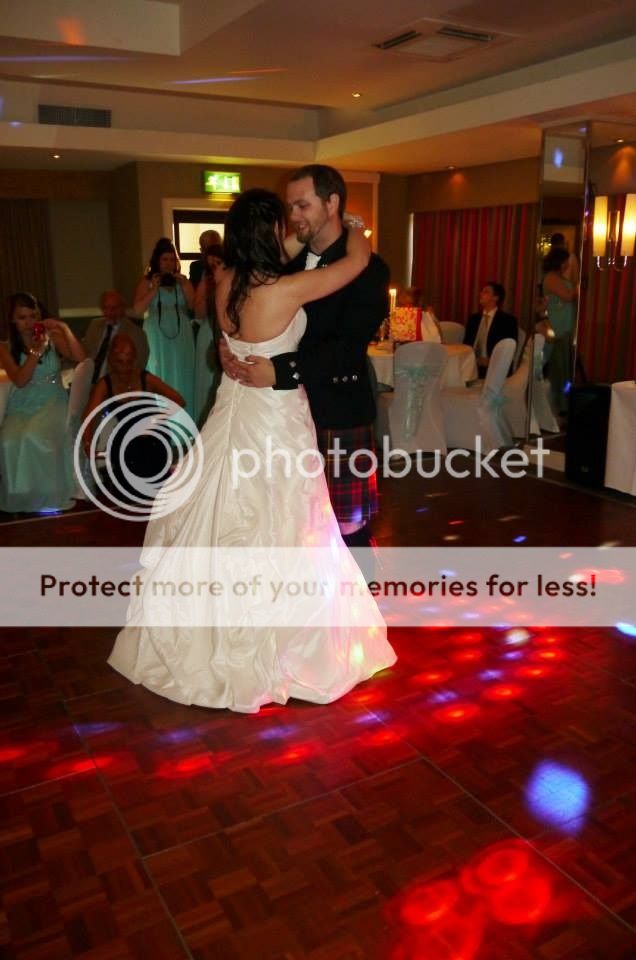 At moments it felt as though someone had pressed fast forward. Time flew past faster than ever before. We cut the cake, we ate dinner, we had a good wee natter. The speeches from my dad, best men and new husband (!) were absolutely fantastic. They had me laughing one moment and welling up with tears the next. My charming husband also almost forgot to mention me in his speech which got a pretty good laugh.
Our first dance, You Can Rely On Me by Jason Mraz, was not nearly as cringey as I had imagined it would be. In fact, I barely even noticed that anyone else was there. It really did just feel like me and him. It was perfect.
I know that I haven't written this in the most eloquent way, I know that it's all a bit all over the place but my thoughts on the day are still a little fuzzy. I'm sure I'll recount tales from the day in the weeks to come. Plus, who knows if you even read all this.
You were only here to look at all the photographs, weren't you?
How handsome is my husband in his kilt?! I'm a bloody lucky lady!
I never realised how freaking awesome the back of my dress looked.
...Or how little you could see that my dress was actually halter! Oops!