I already wrote my Gift Guide for Him so now it's time for one for the girls. As before this gift guide is sort of tailor made to the people in my life so the presents might not be a "one size fits all" kind of thing. Anyway, moving along...
For the lovely mum:
I don't know about you but my mum is awful for putting everyone else first so I think Christmas is the perfect time to remind her to pamper herself with a
LUSH GIFT SET
or other lovely bath stuff! A nice, new
HANDBAG
for work or the odd night out is also a good shout. Of course, buying your mum her favourite
PERFUME
or a new fragrance that you think she'll love never goes wrong either. At least, not with my mum! Finally, whilst my mum isn't really one for getting presents that aren't useful she can't say no to something personalised like these
PERSONALISED WOODEN HEART
or papercuts. There's lots of lovely similar things on etsy!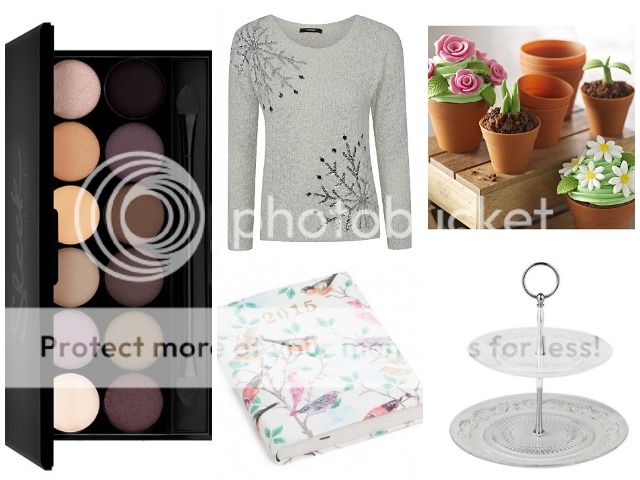 For the awesome, elder sisters:
A make-up palette never goes amiss at Christmas. I'd actually really like this
SLEEK
one myself but I think it'd be great for anybody's sister. I love a good
WINTER JUMPER
and I know that my sister's do too. One of my sisters absolutely loves to bake (and she's awesome at it) and so these
FLOWER POT CUPCAKE CASES
are so cute. I've seen little teacup ones too which are adorable! Whenever I see them I obviously expect cake so a
CAKE STAND
is a must too! With busy work and social lives it can be hard for me to manage a catch up with some of my sisters and so a
DIARY
is perfect to ensure that they can keep track of all their appointments and schedule you in!
For the geek-chic, theatre school, younger sisters:
My younger sisters are such cool, little dudes that buying stuff for them at Christmas is so much fun. They love comics and Marvel so an Iron Man
POP VINYL BOBBLE HEAD
and this
MESSENGER BAG
would go down an absolute treat on Christmas morning. They are also currently at doing drama and are at a theatre school so
THEATRE MONOLOGUE
as well as copies of plays would make an ideal present this year. Plus a nice
NOTEBOOK
would be perfect for keeping track of all those monologues they like for auditions! Finally, when we all get together we enjoy a good board game.
SAY ANYTHING
would be a great addition to our collection.
***Note especially for the twinnies if they read this: Just because it's on the gift guide here doesn't mean you're getting it for Christmas I'm afraid! Remember I'm poor! x