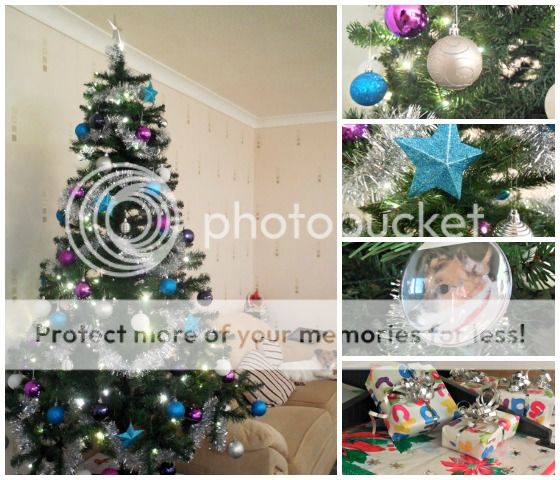 With December turning into one of the busiest months for us this year, we broke our December only rule and put the decorations up on the 30th of November. Okay, so it was only one day early but it felt so wrong! Still with ever weekend up until Christmas being jam packed with events this was our only real chance to spend a good few hours (in daylight) getting Christmassy.
Naturally the Christmas tunes were popped on Spotify and we got to decorating our tree. I'm not one for traditional decorations. I don't particularly like opposite colours together (red and green should never be seen) and I don't like gold. However, I do like purple and blue so they are coupled with white and silver on our tree which I think looks pretty cool. Get it? Purple and blue are cold colours? Honestly, Debi, stop with the humour already! I like to pop a couple of pre-wrapped empty boxes underneath the tree too until the real ones come along!
I think that our other decorations are pretty self explanatory. We have our
little wooden stockings
(not pictured)
from last year along with our real stockings and my
Christmas Chalkboard Countdown
. Alvin, Simon and Theodore the snowmen sit on our TV unit whilst Gobbles the beanie baby turkey sits on our DVD stand out of reach from little doggy jaws. The odd bit of tinsel and my wreath in the hallway but taking pictures out there is a nightmare at this time of year for lighting.
The house definitely feels more festive now that they are up and in plain sight 24/7 which in turn makes me feel more festive and that can only be a good thing. I've still to finish my Christmas shopping and then the real fun begins: present wrapping!