2/2/15: The husband's American football helmet which weighs an absolute tonne! Can you tell that they are called the Tigers?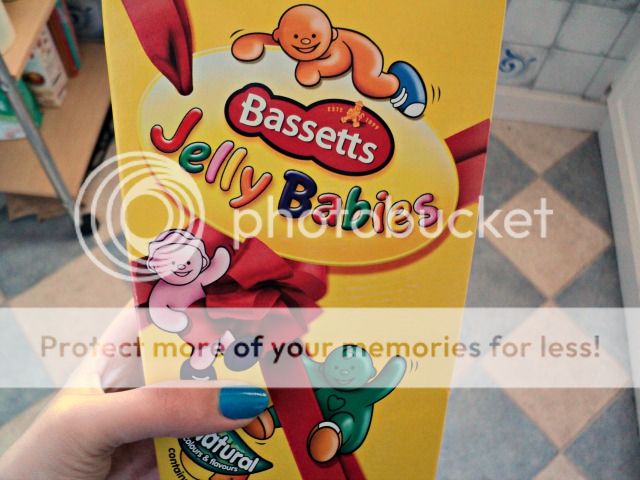 3/2/15: We got two boxes of Jelly Babies for Christmas and this is us just getting around to eating them. I honestly haven't had proper Jelly Babies in the longest time. I forgot just how moreish they could be!
4/2/15: We opened February's date card and already I've started making plans. I'm thinking of having another GAMES PENTATHLON like last year but this time with tasty drinks and cupcakes. We'll have to wait and see though...
5/2/15: Spent the day with Roxie at my big sister's house for a good catch up and a really long natter about just about everything. She had made these delicious red velvet cakes too which were honestly amazing.
6/2/15: The husband brought me home some lovely flowers, just because. He really can be so sweet sometimes.
7/2/15: The sunset was absolutely beautiful. I mean, just look at that sky. Every time I thought that it couldn't possibly look any prettier I would look out the window again and be even more amazed. I love winter sunsets.
8/2/15: One wet but clean, fluffy dog in the house. Roxie doesn't mind baths too much but I know she'd rather that we didn't give her one! The treats afterwards make it worthwhile though I'm sure!
The best weekends are spent with the people that you like the most so having dinner at my sister's house on Saturday with all the gang was brilliant. From wearing the husband's American football helmet and pads to playing with the dogs to our rather crammed stair selfie (parents included) there wasn't a moment that I wasn't having fun. It really is all about the little things in life.
Sunday was my typical day of a little housework and some writing/reading while the husband was at training. The living room did smell of wet dog most of the day after we had bathed Roxie but now she is so soft and fluffy that it made it all worth it. Plus, it was just another excuse to have the obligatory Roxie photo. You're not complaining, are you?