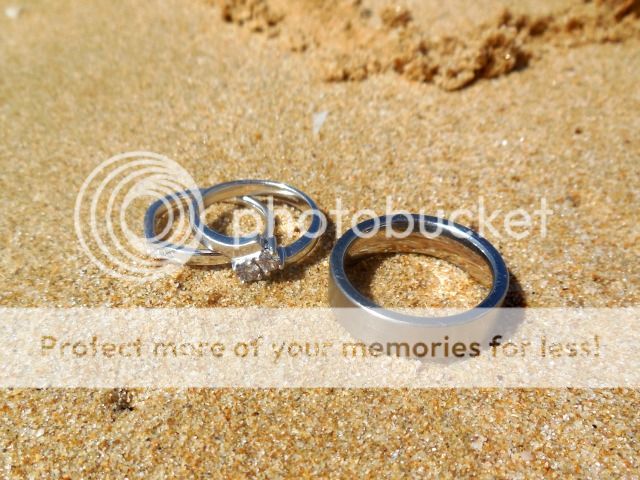 It's such a blogging cliche but where has the time gone?
Sunday the 1st of February marked six months since I walked down that aisle, stuttered some words that I barely remember now, got a new, sparkly ring on my finger and left the room as Mrs T. Six months. Half a year. How is that even possible?
I suppose the same could be said for the fact that ten years ago this month was the first time I actually met that man I now call my husband. Spending a decade of your life with someone should perhaps be a little terrifying but if anything all it does is make me feel old. We were nothing but teenagers, completely unaware of just how entwined in each others' lives we would become. We had no idea how we would shape each others lives and mold the other into who we are now. But we have and I wouldn't change it for the world.
People say that marriage changes you and your relationship. Since taking his name and becoming his wife, which by the way still seems strange and feel far too grown up for me, I've only seen our relationship grow stronger. We are more settled now. Comfortable and secure in the fact that we both want this to be forever.
I never thought I'd say this (and feel free to grab a bucket now) but I think over these past six months I've actually fallen more in love. How that could have ever even been possible eludes me but everything about being married to Mr T. just feels right. He's absolutely who I want to wake up next to in the morning, who I want to build a life with. I want him by my side on each adventure, holding my hand and reassuring me that everything is going to be fine when my anxiety ramps it up a gear.
There's a lot of hard work that goes into a marriage. Heck, there's a lot of hard work that goes into a relationship in general. We would be deluding ourselves if we ever thought that a lifelong commitment would be plain sailing but the thing is that it doesn't feel at all like hard work when I'm side by side with my best friend. It doesn't feel like I'm having to fight for what I want or battle to keep the connection we have going strong. It comes naturally.
I know when I have to put in the effort to make things better. I understand that I need to compromise and allow him to do his own thing or make his own mistakes but I'll be there to pick up the pieces if things don't work out right. I'll bite back "I told you so's" and remind him of all the reasons I love him when he makes mistakes. I'll be his cheerleader when he lacks self belief and I'll always have his back in a fight - although with my puny muscles I'm not sure how much help I'll be.
I know that he feels the same about me.
And when the time comes that we hit a bump in the road that leaves our tyre flat and the engine spluttering then we'll take the time to fix it. We'll put in the hard work and fight for each other. We'll compromise and listen. We'll make changes and get us back on the road in no time because nothing worth having is ever straightforward. Marriages, like everything else, take a lot of work.
I know he's worth that hard work. I know this marriage is set to celebrate a whole lot more six month anniversaries.
Although I'll probably stop counting them after a few years.
Then again, maybe not.