Nothing makes me feel better than getting out of my normal surroundings and escaping to somewhere new. When Kami and I received some bad news in August we decided that we would continue with our plans for our little weekend getaway and, if I'm honest, I think it was the best thing that we could have done at the time. Exploring new places, forgetting all the serious things that are happening, even if only for a few days, can make all the difference in the world.
After out holiday in Amsterdam and having to leave Roxie at home we decided that we would like to take her with us this time and so we chose a caravan park on the Yorkshire Coast with the hope that at least the weather would be better than Scotland's weather. So long as it wasn't absolutely chucking it down then we were a-okay with venturing out with the dog and exploring the area with long walks. Fortunately we lucked out and despite the strong winds on Sunday, the weather was glorious. I even managed to wear my shorts for what I genuinely think is only the fourth or fifth time this year!
During our time away we visited Scarborough and Whitby, and had a flying visit through Filey. When you've got a dog and the sun is shining all you really are interested in is getting out to parks, and in this case beaches, for a few hours of exploration and so that's exactly what we did. Roxie was completely in her element; smelling everything possible, ignoring almost every single dog (yippee!) and chasing any wildlife she could. Don't worry though! She's always kept on the lead so she never gets anywhere near said wildlife.
Waking up to blue skies on Saturday morning we decided to go exploring in Scarborough with Peasholm Park being our starting point. I don't think there is a park quite like this anywhere near where we live. With Japanese style gardens and statues to a small lake on which you can rent boats and pedalos to long walks, the park has plenty to offer. Despite being the height of the English summer holidays the park was surprisingly calm and peaceful. Well, at least, until Roxie spotted the many brazen squirrels that were hopping from tree to tree, running across the path only a few feet away from us. Being a terrier, Roxie becomes a bit obsessed by squirrels, desperate to catch them!
After a quick drive along the coast in Scarborough and through Filey we headed back to the caravan park and down to the beach for a picnic lunch. Sitting by the sea, the breeze in my hair with my two absolute favourite people (well, person and dog) in the world felt awesome. If I could I would wander along a beach every single day for the rest of my life. There's something so lovely about the view, the sounds, the sand between your toes. Ah, bliss. We followed this us by sitting out beside the caravan playing games in the summer sunshine because we are so cool like that.
On Sunday we visited the coastal town of Whitby. My dad's uncle used to live in Whitby so it was somewhere he often went as a little boy but despite this, it's somewhere I've never been before. Being so close I knew I wanted to go and visit the place that my dad had spent so many of his holidays. Whitby is a lovely little town with an abbey sitting on the cliff overlooking the harbour. Despite the blustery wind we enjoyed a seaside ice-cream and wandered the busy streets, bustling with tourists. Kami had to carry Roxie once or twice purely because the streets were so busy that she would have been trampled on! Still, it was a lovely little town and we were glad to have explored it.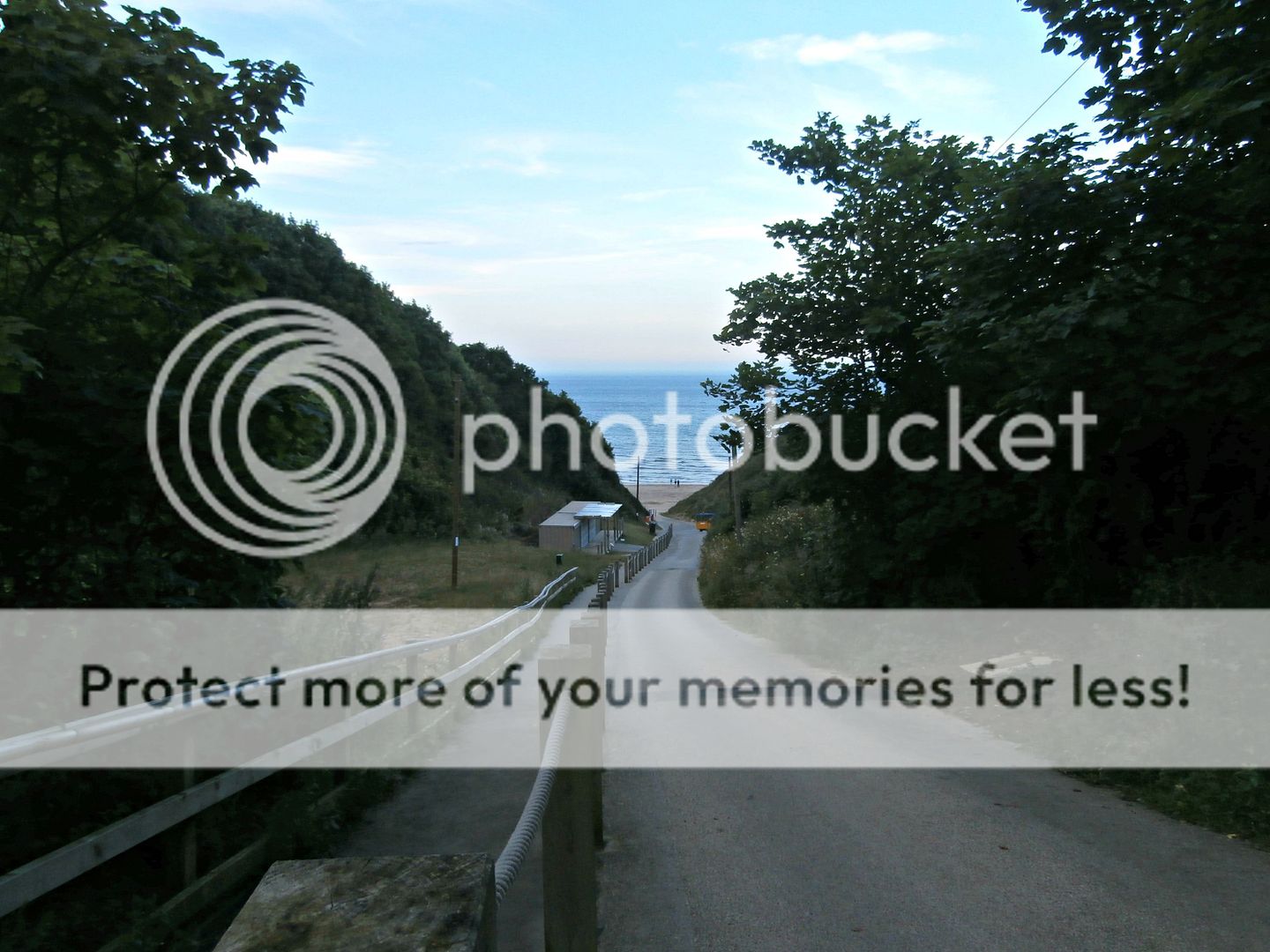 Just getting away and spending time in each others' company was just what the doctor ordered. There's been a few times since we went that I almost wish that we could rewind time and just go back, have the waves of the sea carry our worries out into the world, breathe the salty air deep into my lungs and relax.
I think I need to move near a beach pronto.