This style of post always ends up being such a commitment. It's hard enough to remember to take a god forsaken photo never mind make it something interesting and yet here I am doing just that. I thought this time that I would mess things up a little by showing you a weekday in my life rather than a weekend and so last Saturday I dug out the camera and did just that. Documenting a day has its highs and lows (see below) but I'm trying to get back into this whole blogging malarkey and thought that it might be a good idea.
Pro: It's a completely honest look into my day to day life.
Con: My life is very boring.
Pro: Fridays are my busiest days.
Con: It's all housework.
Pro: Many Friday evenings I spend watching my team (Glasgow Warriors) play rugby.
Con: There isn't a game this Friday but instead on Saturday - and it's in Cardiff.
Pro: I haven't done a day in the life style post since May.
Con: It's now November so the weather is rubbish which means the lighting is awful and my photos look like poop.
Anyway, I hope you enjoy all the same...
8am: A breakfast of pancakes (well, pancake), Nutella and a coffee. Adulting it right there.
9am: Shower time with pretty bog standard products before a long day of housework and other mundane tasks! Don't have the wherewithal for fancy shmancy products so I apologise for not being interesting.

10am:
I just changed the bed sheets so naturally Roxie climbs over the nice clean bed. It's a good thing that she's so damn cute otherwise we'd have some problems!
11am: The most fun job of the day: cleaning the bathroom. Please excuse the dopey face - and the sarcasm.
12pm: Doing a spot of ironing while watching Bates Motel on Netflix. I've got to break up the mundane household tasks with something and Netflix often fits the bill. I had run out of things to watch recently and thought I'd give Bates Motel a shot. I'm only a few episodes into the first season but it is pretty good so far.


1pm: Lunch time which seems to mean a nice big bowl of pasta today. I haven't had pasta for lunch in ages but with the weather outside being miserable and my stomach growling it was just what the doctor ordered!


2pm: Still pottering around the house doing bits and pieces like dishes (yawn) and hanging up my washing (double yawn). Noticed that it was drizzling outside and the tree at my living room window had lots of pretty leaves and drips on it. Definitely the best photo of the day right here.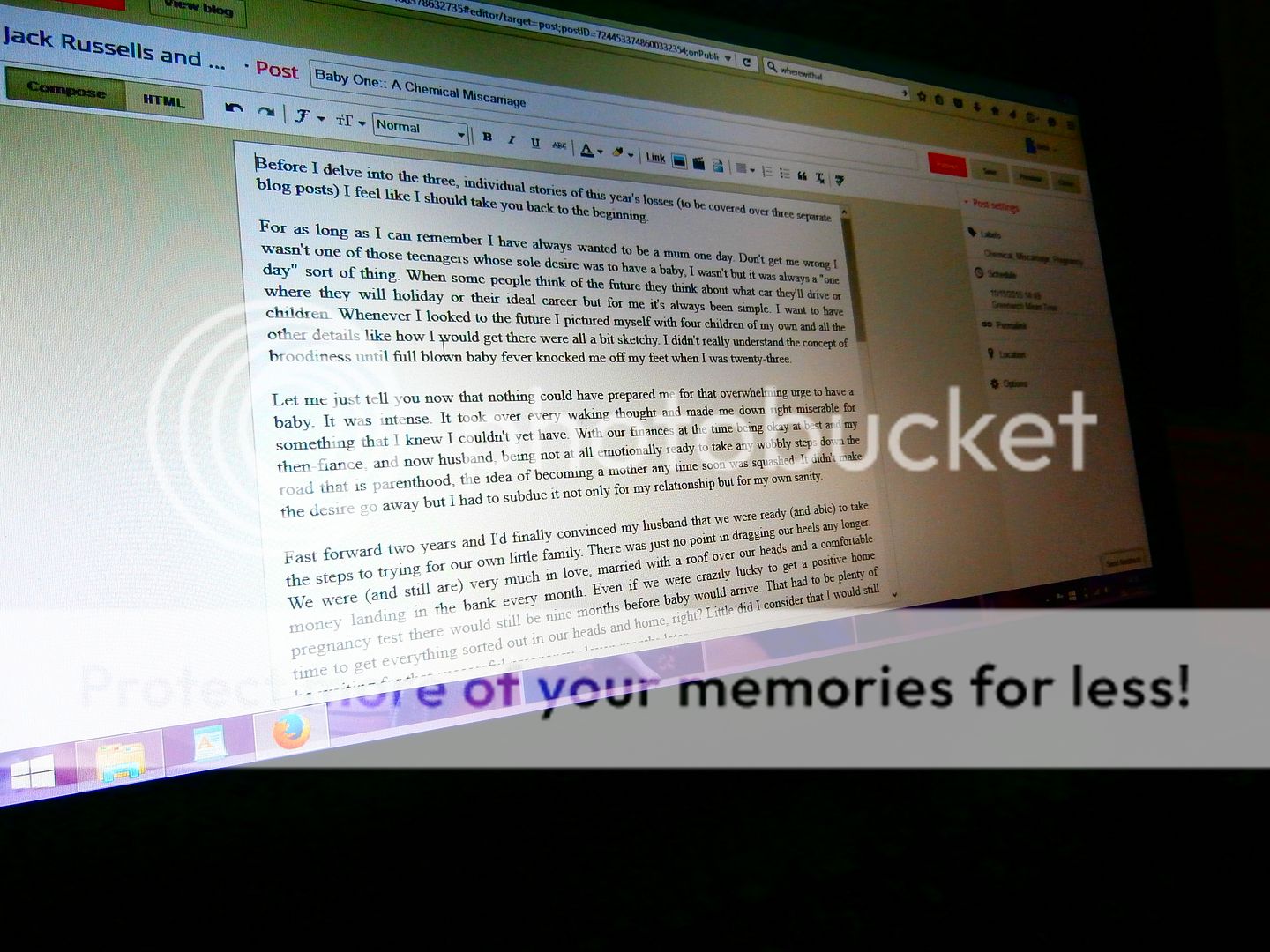 3pm:
Doing a combination of editing the photos I've taken earlier in the day and writing some more blog posts including the second one for Jack Russells and Rainbows.
4pm:
Doing a spot of paint by numbers because I am a child. I've been obsessed with these things for a while as I have plans to use them in crafty ways for the future. I'm just disappointed that there doesn't seem to be any good dinosaur ones! My parents came round for a coffee and chat so painting didn't really last for long.
5pm:
Roxie rocking out in her little pink hoodie. Adorable. You didn't really think we could go all day without a photo of my super cute, furry best friend, did you?
6pm:
Pizza time. I mean, dinner time. Can't go wrong with pizza on a Friday night, can you?
7pm:
Make that two photos of my furry best friend. Time for an evening walk in the dark and cold. Damn you autumn.
8pm:
Pjs and watching Scream: The TV Series on Netflix while cuddled up with Kami and Roxie on the couch. What more could a girl want to start the weekend? The rest of the night was filled with laziness in front of the television as, after all that housework, it was just what I needed to chill out.
And there you have it: a peek into my fairly standard Friday. Of course this was obviously last Friday's shenanigans as unfortunately I am currently unable to time travel into the future. That would be cool though, wouldn't it? By the looks of things I'll be having a pretty similar Friday this week too. I know, I know... I'm just
too
exciting.